WEB START
This package offers excellent value for a minimal price. It is designed for small and medium sized companies who want to see how they fit on the Web. This offer allows you to try out your Internet presence for an unbeatable price.
The WebStart package consists of 5 pages, included on each page is your company logo, any picture, a navigation menu, and the desired text. The pages have a unified, consistent design so they deliver a professional impact. It is possible to choose from many different menu, logo, and content layouts.
Below is an example of a Web site design layout and structure.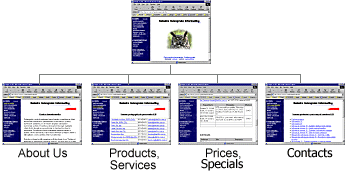 Price: $150.00